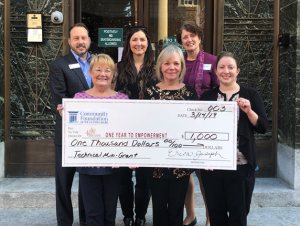 SALISBURY, MD – On March 14, business leaders, local government officials, and program supporters gathered to celebrate the growth and impact of 1 Year to Empowerment. The program, designed to teach and empower young girls in the community, hosted the event to bring awareness to their mission and future plans.
Dr. Samantha Scott, the Founder and Executive Director, began the night by thanking the supporters of the program and introducing the expansion of the business to include middle school-aged girls.
"We have grown tremendously," Scott said. "So later this year, we are launching a middle school program. Not only will we be servicing high school girls in the area, we will also have a program for middle school girls running simultaneously."
As the outreach of the program grows, the staff of the organization grows as well. Scott deflected the attention from her and placed it on her staff, to whom she gives all the credit.
"Also, in last year, with your support, we were able to hire Natalie Bennett and Jean Miller as our Program Directors. That is how we were able to start a middle school program and how we have so many amazing people in this room tonight. I owe it all to them. I can't take credit for any of it. They are amazing," Scott said.
Scott and her team were presented with proclamations from community leaders and government officials including the Governor of Maryland, Larry Hogan, Senator Addie Eckhart, and Comptroller of Maryland, Peter Franchot. Each one offered well wishes and congratulatory remarks on the work done by 1 Year to Empowerment.
The hosting organization continued the night by showing the audience their video of graduated "empowerees" expressing their testimonies and beneficial experienced they gained from participating in the program while showcasing their activities and community service.
Delicious hour 'devours and wine was provided at the event including bacon wrapped meatballs, a variety of chicken salad samples, potato wedges and more.
1 Year to Empowerment is a year-long program designed to provide high school girls with life skills and activities that help them develop a strong sense of self-reliance, self-respect, and self-esteem. The program affords them the opportunity to create life-long friendships and unforgettable memories. For more information on 1 Year to Empowerment or to get an application for the upcoming program year go to their website at www.oneyeartoempowerment.org
For more information on Business After Hours and how your business could host an upcoming event call the Salisbury Area Chamber of Commerce at 410-749-0144 or email Cathy Diekmann at cdiekmann@salisburyarea.com