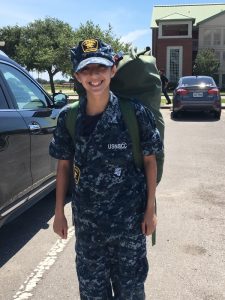 Where were you at 14?  Zoey DiPasqua of Mardela Springs, Md. not only knows where she is today, she's already determined exactly where she wants to be for the next 25 to 35 years.
"I'm going to be a cardiothoracic surgeon and a career naval officer," said the ambitious high school freshman with a curriculum already focused heavily on engineering. "I've always wanted to serve in the military and have been fascinated by cardiac surgery since I was a young girl visiting my parents at work."
Zoey, the daughter of Peninsula Regional Medical Center (PRMC) registered nurses Chris and Beth DiPasqua, also had another clinical champion in her corner: veteran PRMC critical care RN Betty Turner, who passed away two years ago.  Betty, who donated her body to science after serving 54 years at the Medical Center, never had a proper funeral.  For Zoey, that was difficult to understand and accept.
"Betty was like a grandmother to me and a great influence on my life, and she mentored my dad early in his nursing career," said the teen. "I wanted to do something that would allow her to live on and to be recognized for her legacy and her love of nursing, teaching and mentoring students."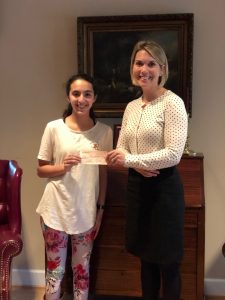 On Valentine's Day 2017, that dream became reality as Zoey single-handedly established and launched the Betty Turner Memorial Nursing Scholarship at Salisbury University.  Two years later, the scholarship is fully funded and will be awarded to an SU nursing student or students on an annual basis in perpetuity. Zoey needed to raise $10,000 to endow it, which she did in just two years by speaking with hundreds of people, businesses, friends, family and clinical organizations including the PGH Nursing Alumni and the American Academy of Critical Care Nurses.  All enthusiastically donated.
"I'm super proud; couldn't be more proud of Zoey given what Betty meant to not only our family but also PRMC and this community," said her father, Chris DiPasqua.  "She's extremely driven, and to rise to the top in any profession, you need those attributes.  She's certainly charted a course that will help her achieve those goals."
For now, that course has her training in the United States Navy Sea Cadets, a junior arm of the Navy, and the Salisbury Civil Air Patrol, an arm of the United States Air Force. There's also additional preparation for enrollment in the United States Naval Academy awaiting in educational sessions this summer at Ramstein Air Base in Germany.
"My parents' nursing careers were probably the basis for my love of medicine, but it was Betty who always encouraged me to do anything I ever wanted to do," Zoey said. "I started this project on Valentine's Day to show my love for her."
Zoey and Salisbury University welcome continued contributions to the Betty Turner Memorial Nursing Scholarship.  If interested, please visit https://salisburyu.networkforgood.com and search for Betty Turner.
# # # # #