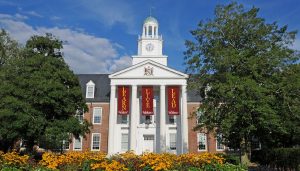 SALISBURY, MD—The Sales Education Foundation (SEF) again has named Salisbury University among its 2019 "Top Universities for Professional Sales Education."
For the third consecutive year, the accolade was announced in the foundation's annual magazine.
Dr. Amit Poddar, professor of marketing in SU's Franklin P. Perdue School of Business, founded the Sales Program in 2015, establishing the Mid-Atlantic Sales and Marketing Institute (MASMI). The institute joined the national University Sales Center Alliance in 2016, earning full membership in 2017.
During its first year, the program had 14 enrolled students and no dedicated classes or faculty. Today, nearly 200 students are enrolled per year, and the program has four dedicated faculty members and multiple classes. SU also has added a sales minor for business and marketing students.
Other institutions ranked by the SEF include Clemson, James Madison and Texas A&M universities, and the University of North Carolina. SU is the only Maryland school on the list of 118 campuses in North America and 16 more globally.
According to the foundation, some 60 percent of all business majors and 88 percent of marketing majors begin their professional careers in sales-related jobs, making programs like SU's even more important.
For more information call 410-543-6030 or visit the MASMI website at www.salisbury.edu/masmi.