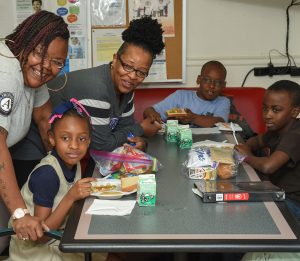 SALISBURY, MD—Mentoring youth, advocating for seniors and growing the capacity of local nonprofits — for over two decades, members of ShoreCorps, one of two AmeriCorps programs at Salisbury University, have done all this and more.
ShoreCorps members earn education awards for providing a year of service to area public agencies and non-profit organizations, ranging from $1,289 for 300 hours to $6,095 for 1,700 hours. Those serving between 900 and 1,700 hours also earn a bi-weekly stipend up to $583.
In addition, SU offers six credit hours for members completing at least 900 hours of service in one year. According to the Corporation for National and Community Service, Salisbury is one of only two institutions in Maryland — and one of just over 200 in the U.S. — to offer such a benefit for AmeriCorps members.
"This match extends the value of the education award that comes with AmeriCorps national service," said Dr. Alexander Pope, co-director of SU's Institute for Public Affairs and Civic Engagement (PACE), which oversees the ShoreCorps program.
The program often attracts a range of individuals, from those recently graduated and looking for resume-building experience to retirees seeking to give back, he added. Those who are 55 and older may gift the education award to a child or grandchild.
ShoreCorps members must be at least 18, but some have been over 60, Pope said. They must have a high school diploma or GED, but do not need to be enrolled in college to participate.
Applications are available for the 2019-20 service year. For more information call 410-543-6137, e-mail Program Coordinator Sara Heim at ssheim@salisbury.edu or visit the ShoreCorps website at www.salisbury.edu/americorps.