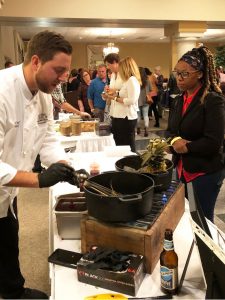 On Thursday, October 24, 2019, hundreds of Delmarva foodies flocked to Dove Pointe in Salisbury to partake in the Salisbury Area Chamber of Commerce 12th Annual Taste of the Town, co-hosted by the SACC Young Professionals.
All Lower Shore restaurants were invited to participate in the "Iron Chef" style competition, and had a choice of entering in one of two categories; Simple Tastes category represented casual, light fare, and Signature Tastes was an upscale, more refined dish.
This year's winners  were Market Street Inn Restaurant & Pub & Vittles Catering & Food Truck
Market Street Inn won the Signature Tastes category. Chef Phillip Hitch was assisted by Cody Eagleson, and the two culinary creatives served a Deconstructed Surf & Turf Deconstructed short rib taco comprised of a crispy wanton, braised short rib, avocado mouse, pickled shallot barboca sauce, and micro cilantro.
The Simples Tastes category winner was Vittles Catering & Food Truck. Chef Jeremy Dashiell created a Hawaiian Braised Beef, served on a crispy cheddar polenta cake w/ pickled beets, mustard seed, sautéed carrots, and scallions.
Congratulations to each of the participating restaurants on a successful night. Chamber members and the public alike enjoyed sampling some of the best dishes that Delmarva has to offer!  Other participating restaurants included Chuar, Brew River, Mojo's, Evolution Craft Brewing Company, Taco Bliss, Boonie's,  Moore Pizza, The Dinner Express, Adam's Ribs, Black Diamond Catering, and The Mad Hatter Cafe.