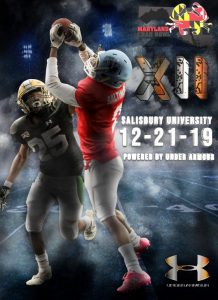 Mid-­Atlantic Sports Foundation is PLEASED TO ANNOUNCE THAT THE 12th CRAB BOWL WILL BE PLAYED IN SALISBURY at SEA GULL STADIUM.
A STATEMENT FROM OUR PRESIDENT, Tony Kennedy: The 2019 Maryland Crab Bowl High School All Star Football game will be played at Salisbury University on Saturday, December 21st, 2019 1:30pm!! The gate will open at 9am with two, great Youth contests featuring the 7th and 8th graders from the Eastern Shore competing against some rising stars from the Virginia Beach area. Players, families and fans from all over will be flocking into Ocean City and Salisbury for the weekend of football festivities!!
The High school All Star rosters are made up of two teams of 50 public and private school student athletes representing the entire state and the District of Columbia. These state all stars are also visiting the Harriet Tubman Underground Railroad and State Park Museum as part of this great experience on the Eastern Shore!!
Please come out to celebrate and support this event's All Star student athletes that are continually working so hard to become the best and shine in the future! More information at www.midatlanticsports.org
9:30 AM – Game 1: 7th grade Crab Bowl Youth Stars (Eastern Shore vs. Virginia Beach)
11:30 AM – Game 2: 8th grade Crab Bowl Youth Stars (Eastern Shore vs. Virginia Beach)
1:30 PM – Game 3: HS Seniors – State All Stars 2019 Maryland Crab Bowl XII