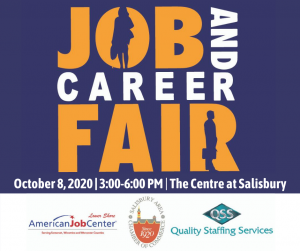 Salisbury, MD – August 8, 2020 – The Salisbury Area Chamber of Commerce and the Lower Shore American Job Center are proud to host their annual regional Job and Career Fair every fall at the Centre at Salisbury.
This year's fair will be held on Thursday, October 8, 2020, from 3:00 PM – 6:00 PM.
The regional Job and Career Fair is FREE for attendees and open to the community.
Over 65 employers participate in the Job & Career Fair, and approximately 2000 job seekers attend the event. Due to COVID-19 pandemic, extra safety measures will be implemented as outlined below.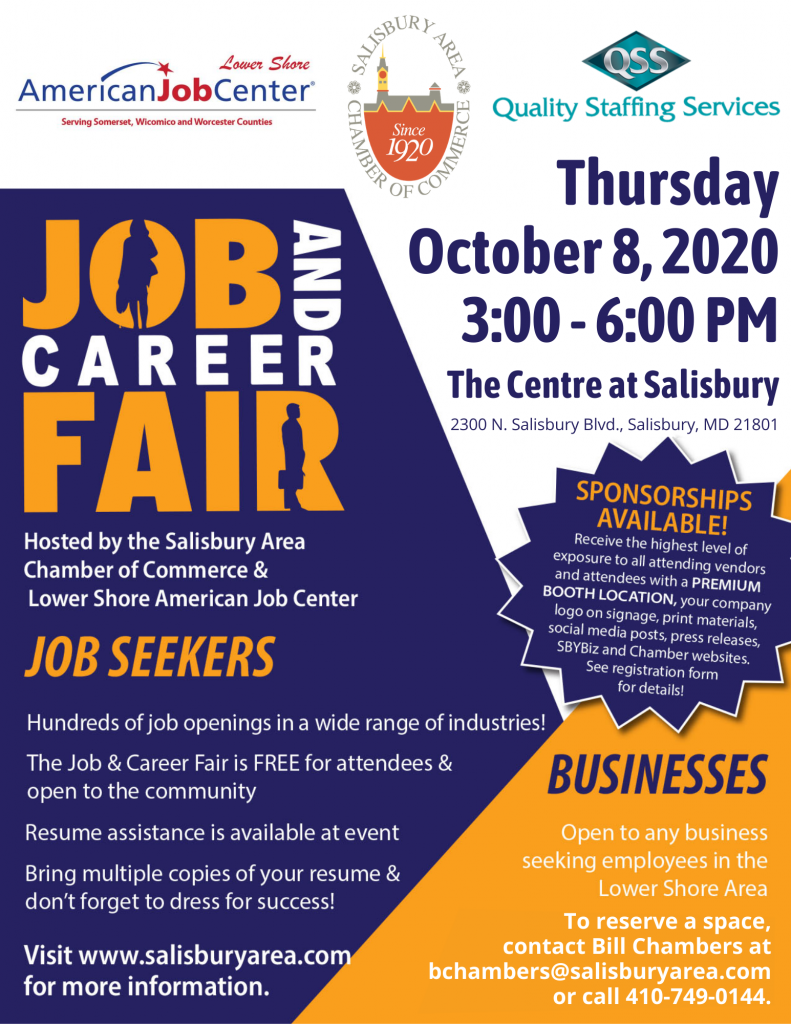 Thank you to the 2020 Job & Career Fair Sponsors:
Any business seeking employees in the Lower Shore region is encouraged to participate, regardless of company size. The Job & Career Fair is an excellent opportunity for employers to meet face-to-face with prospective employees. Booths will be safely distanced throughout the main corridors of the mall, providing maximum exposure for businesses to all mall visitors and potential employees.
Job seekers will have direct access to hundreds of job openings in a wide range of industries.  Participants are encouraged to come dressed for success and bring multiple copies of their resumé for distribution to prospective employers. Resumé assistance will be available at the event, without charge.
Premium sponsorships are available for $500, and booth space is available for $125.
SAFETY MEASURES
Due to the ongoing COVID-19 pandemic, new safety measures have been implemented by the Centre at Salisbury to help ensure the health and safety for all who enter the Mall, including hand-sanitizing stations, touch-free interactions, frequent and intense cleanings, social distancing directions and a new filtered air system that captures airborne viruses.
In addition, as required by state or local mandate and to keep our community safe, face coverings are required (with certain exceptions) upon entering the Mall.  Signage of the face coverings requirement has been posted to all public entry doors. The Centre at Salisbury is working diligently to provide a safe, clean environment where people feel comfortable.
Additionally, the following amenities will be unavailable until further notice: valet services, play areas, stroller rentals, and mall-operated carousels. For a more detailed list of all current security measures, visit the Centre at Salisbury Safety Page.
For more information or to register, visit www.salisburyarea.com/chamber-events/job-fair/ or contact Bill Chambers at 410-749-0144 or bchambers@salisburyarea.com.