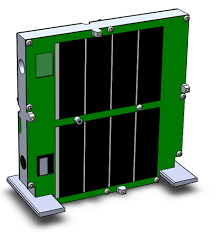 SALISBURY, MD—Eight Salisbury University alumni who designed and built a ThinSat nearly two years ago for inclusion on a rocket headed to the International Space Station are counting down the final hours to launch.
The NG-15 Cygnus spacecraft delivering approximately 8,200 lbs. of cargo to the International Space Station is scheduled to take off at 12:36 p.m. Saturday, February 20, from the Mid-Atlantic Regional Spaceport (MARS) at NASA's Wallops Flight Facility in Wallops Island, VA.
Following the administration's tradition of naming each Cygnus after an individual who has played a pivotal role in human spaceflight, the spacecraft is named in memory of renowned NASA mathematician Katherine Johnson, whose breaking of gender and race barriers was chronicled in the 2016 film Hidden Figures.
While there are no in-person launch activities due to COVID-19 precautions, registration for online viewing is available at www.eventbrite.com/e/nasas-northrop-grumman-15th-commercial-resupply-services-mission-launch-registration-136289113407.
A ThinSat is a small satellite (the size of a slice of bread) that, once launched, relays data back to Earth's surface for analysis. The Virginia Space program allows students to develop satellite hardware, test sensor components and collect data.
"It is really exciting that our ThinSat is about to be launched, and I am eager to review the data," said Dr. Steven Binz, SU assistant professor of physics. He and physics colleague, Dr. Nicholas Troup, taught the courses related to the program.
The data is expected to be available in real time, with the first reporting back a few hours after launch and throughout the approximately one-week orbit.
"We hope the data show whether or not thunderstorms can impact the magnetic field in the lower thermosphere, and if we can detect a recently characterized atmospheric phenomenon called Strong Thermal Emission Velocity Enhancement – a phenomenon similar to, but distinct from the aurora," said Binz.
Throughout three semesters during their undergraduate time at SU, Binz's former students researched what others have done in space, developed questions, and designed and tested a satellite that will collect data to answer those questions once launched. This will include measurements of Earth's magnetic field, light intensity and color from aurora, and temperature.
Once the conceptual phase of the project moved on to implementation, the students learned firsthand about the challenges and unexpected aspects of working with satellites.
"When you first see the size of the ThinSat, you might think that it will be impossible to do anything interesting with something so small," said Binz.  "But when you remember how many sensors can fit into a cell phone you start to realize that the sky is the limit.  Getting everything to fit still required careful planning, cutting out parts of circuit boards we did not need, and some very tricky soldering."
Virginia Space created and funds the ThinSat program to increase student engagement and interest in science, technology, engineering and mathematics (STEM) fields with the long-term goal of building a local, agile workforce capable of performing 21st-century jobs.
"Besides providing a once-in-a-lifetime experience for our students to build an experiment that goes to space, the ThinSat program gives the opportunity to make an impactful discovery," Binz said.
Alumni who participated in this project include Jesús Cruz of Salisbury, Luke Schofield of Snow Hill, MD; Michael Limpert of Federalsburg, MD; Samantha Koehler of Princess Anne, MD; Ian McCann of Rehoboth Beach, DE; Jack DeRycke of Edgewater, MD; J.T. Richter of Abingdon, MD; and Jake Sands of Middletown, MD.
Virginia Space owns and operates MARS at NASA's Wallops Flight Facility. It provides launchpads, payload processing facilities and an unmanned systems test range for commercial, government, scientific and academic users. Its ThinSat program was created in partnership with Twiggs Space Lab, Northrop Grumman and NASA Wallops.
For more information on the launch visit the NG-15 mission website at https://www.northropgrumman.com/space/nasa-commercial-resupply-mission-ng-15/. For more information on SU's Physics Department visit www.salisbury.edu/physics/.