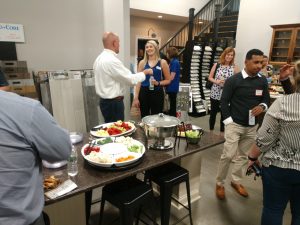 On June 2, 2021, the SACC and the Western Sussex Chamber of Commerce hosted a joint after-hours image at Solid Image in Laurel, Delaware.
Over fifty members from each Chamber enjoyed an array of appetizers along with cold beverages and outstanding networking! Western Sussex Chamber CEO Terry Carson thanked all in attendance, she commented "Finally! We can all get together, network, and renew our business relationships in person!"
Members from both Chambers enjoyed in-person networking with many commenting they are done with zoom meetings!
Both Chambers of Commerce are in the planning stages for a fall joint mixer. Visit www.salisburyarea.com for information on all upcoming events.