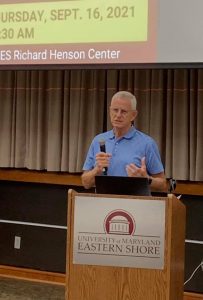 On September 16, 2021, the SACC General Membership Luncheon returned to the beautiful campus of The University of Maryland Eastern Shore.
The attendees enjoyed a delicious luncheon followed by a presentation by this month's featured speaker, Mr. Tom Baxter, the President/CEO of Baxter Enterprises located in Salisbury, Maryland.
Until recently, Baxter Enterprises was one of the largest McDonald's franchise owners in the region with eighteen restaurants spanning all three Delmarva states. The company sold the franchises last year.
Visiting UMES was a bit of a homecoming for Mr. Baxter as he was honored by the University with an Honorary Doctorate several years ago.
Baxter Enterprises continues to support the University through its Foundation. Twenty UMES students attended the luncheon, all of which are enrolled in the University's hospitality program.
Baxter started off his presentation by telling the audience that "McDonald's has been my only job for nearly three decades. I started working at the McDonalds in Arlington, Virginia when I was fifteen years old making milkshakes." After moving up to store manager at the age of twenty, Mr. Baxter transitioned to the corporate McDonald's in New York City. Following that he began to buy franchises on the shore, eventually tallying twenty-one McDonald's restaurants.
Those restaurants served more than 7.5 million customers a year and employed 1,200 staff. Baxter commented, "That success was due to our people. Attracting and keeping good people remains a challenge for this industry."
There were several questions from the student in the audience, one about internships. Baxter stated that interns at his establishments learned all aspects of the McDonald's operations including drive-through, front counter, food preparation, and management.
The October General Membership Luncheon will be held at the Wicomico Civic Center DaNang Room on October 21, 2021. The Mayors of Delmarva will all be on a panel to discuss the challenges and opportunities they face in their cities. Mayors from Delaware, Maryland, and Virginia are expected. For more information, visit salisburyarea.com.