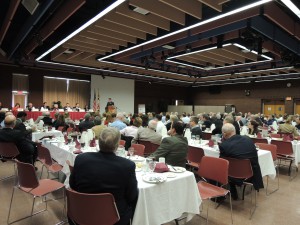 Attendees heard first-hand what leading regional economists and business leaders say are the biggest post-election challenges ahead and what's next for the economy on the Lower Eastern Shore. The Salisbury Area Chamber of Commerce's 27th Annual Economic Forecast- "The Elections are Over, What Now?" was designed to help Delmarva businesses plan for the expected economic conditions in 2015.  Presentations were made regarding specific industries as well as areas of interest to the Eastern Shore.
Special thank you to our sponsors:
M&T Bank
Comcast Spotlight
Salisbury University
BEACON
Bradley Gillis – Sperry Van Ness
Delmarva Veteran Builders
University of Maryland Eastern Shore
AHPharma
PKS & Company, P.A.
Prime Lending
Marie Calafiura, M.B.A., C.P.A.
Comcast
Thank you to all of our participants!
Andrew Bauer, Senior Regional Economist, First Federal Reserve Bank of Richmond (Baltimore Office)
Presentation below:
Bauer Economic Outlook 18DEC2014
Anthony Roth, Chief Investment Officer of Wilmington Trust
Presentation below:
MandT-Wilmington Trust Economic Outlook 18DEC2014
Panel Discussion:
– Katarina Ennerfelt – Toroid Corporation
– Maria Waller – President, Quality Staffing Services
– Chris Hall – Vice President of Strategy & Business Development/Chief Business Officer, Peninsula Regional Media Center
– Matt Holloway – President, Wicomico County Council
– Justin Kelley, President, Impact Technology Group
– Moderator: Stephanie Willey, Comcast Spotlight & SACC Past President
Keynote Speaker: Newt Fowler, Business Transactions Attorney at Womble Carlyl, LLP

Presentation below:
Is the New Economy Passing Us By_18DEC2014
Eastern Shore Delegation Forum
Mathew Palmer, Senior Vice President of Government Affairs for the MD Chamber of Commerce
Delegates
– Delegate Charles Otto, District 38A-Somerset & Wicomico Counties
– Delegate Elect Mary Beth Carozza, District 38C-Worcester & Wicomico Counties
– Senator James Mathias, District 38-Somerset, Wicomico & Worcester Counties
– Delegate Elect Chris Adams, District 37B-Caroline, Dorchester, Talbot & Wicomico Counties
– Senator Elect Adelaide C. Eckardt, District 37 – Caroline, Dorchester, Talbot & Wicomico Counties
– Delegate Elect Carl Anderton, District 38B – Worcester & Wicomico Counties
– Delegate Elect Johnny Mautz, District 37B- Caroline, Dorchester, Talbot & Wicomico Counties
– Delegate Elect Sheree Sample-Hughes, District 37A- Parts of Dorchester & Wicomico Counties
– Moderator, Robby Sheehan, Director of Government & Community Relations, Office of the President, Salisbury University