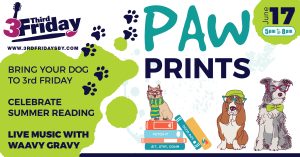 June 17, 2022 is the next 3rd Friday in Downtown Salisbury, with artists and crafters lining the streets, live music outside and loads of special activities. This month's theme is Paw Prints, a fan-favorite theme that encourages bringing well-behaved pets along for a night out Downtown. There will be activities for pets and humans this 3rd Friday – so grab a leash, and get ready for a night of fur and fun!
The annual tradition of "bring-your-dog" to 3rd Friday is always a blast, but remember its not all for dogs – there will be representatives from Eastern Shore Rabbit Rescue, Delmarva Cat Connection and various rescues with information about all sorts of animals up for adoption. Dog owners can test their pup's skills out on the agility course on N. Division Street featuring a teeter totter, tubes and jumps. The N. Division Street stage will feature live music from local up-and-coming rockstars Wavvy Gravy, rocking out with all your favorite songs you didn't even realize you missed hearing.
Paw Prints coincides with the 10th anniversary of the Imagination Library on the Lower Shore and the United Way of the Lower Eastern Shore has teamed up with the Wicomico Public Library and Pets on Wheels to celebrate in style. Pets and reading collide with opportunities for children to read to dogs, fun activities and a chance to sign up for Summer Reading and the Imagination Library. Founded in 1996, Dolly Parton's Imagination Library is a program that provides books each month to registered children all over globe. On the Lower Shore, the program is available at no charge to kids ages five and under, and over the past 9 years the United Way has helped distribute over 319,000 books to 11,000 children in our community. Stop by to learn how you can sign up your child for the Imagination Library program or sponsor a child for only $26 a year.
On Main Street, Honest5 Dog Food and Treats will be offering free samples of their all-natural freshly-made and locally sourced dog treats to pups during 3rd Friday. Lilac Clothing Company is ready for 3rd Friday with an amazing summer collection in stock, a dog watering stations outside and 20% off purchase to anyone who brings in a donation to the Wicomico County Humane Society. The Mud Hud Clay Art Studio is teaming up with Fenix Youth Project to offer a Sidewalk Chalk Art Week promotion – stop by anytime between the 17th and the 24th for free chalk to be used for tasteful and inspiring messages in the community.
Art Lovers, check out Salisbury Art Space for an all-new exhibition featuring the best-of works of Salisbury Art Space members. Open to all themes and all media, the Members Exhibition shines a spotlight on some of area's brightest talents. Salisbury Art Space will also be hosting clay demos on the plaza, and kids crafts in the gallery. For more art, stop by Salisbury University Art Galleries for the final days of "Jinsoon Oh: Dreams of Being" – showcasing a mix of ceramic works and paintings by the Salisbury-based artist and poet, with imaginative elements and a surreal approach that engage an audience in a way that poetry would. "Jinsoon Oh: On Dreams of Being" will be on display at Salisbury University Art Galleries through June 18th, 2022.
3rd Friday is a downtown economic development initiative and a project of the Salisbury Arts & Entertainment District, in partnership with The City of Salisbury. There is no charge for artists to participate, but advance registration is required. For More Information: 3rdFridaySby.com