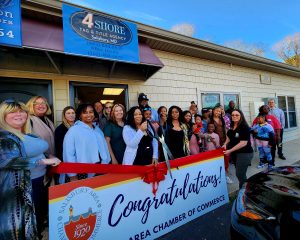 On February 23, 2023 the Salisbury Area Chamber of Commerce joined 4 Shore Tag and Title Agency, a full-service tags and title company, in their grand opening and ribbon cutting celebration.   Locally, women and minority owned by Ashley Butler and Tikisha Purnell-Hepburn, the company is committed to providing fast and reliable services to the local community.
4 Shore Tag and Title Agency specializes in providing services related to vehicle registration, title transfers, and license plate renewals. The company is dedicated to offering superior customer service, with knowledgeable and friendly staff members who are eager to help customers with their needs.
Ashley Butler welcomed the group of members and family members by sharing that "This has been quite a journey and hard work to open this location.  Tikisha and I met years ago at another Tags and Title agency, and we decided to join efforts and open our own company. We understand that people have busy lives and need to have their tags and titles taken care of quickly and efficiently. We are here to provide them with the best service possible. We process all your tags and title work.  Whether it is getting new tags, upgrading your tags, boat trailer tags, motorcycles, renewals, etc.  We are going to offer $5 off on services on Tuesday for Veterans, Wednesday for senior citizens, Thursday for healthcare workers, and Friday for police officers and fire fighters. Leave us your google review for a chance to win a prize at the end of the month.  Also, Chamber members that send us referrals will receive a discount on your next title work."
Member guests enjoyed delicious appetizers and strawberry or orange mimosas, and entered for a chance to win products baskets and a Visa gift card.
4 Shore Tag and Title Agency is located on 2200 Northwood Drive unit 3 Salisbury MD 21801 and from 8am-5pm Monday through Friday.  For more information call 302-404-4875, email 4shoretagsandtitle@gmail.com or visit www.4shoretagtitle.com