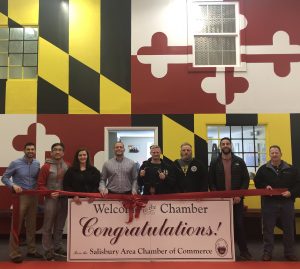 (Salisbury Md., February 4, 2019) – The Salisbury Area welcomed a new, upcoming business on February 2, 2019. 410 Academy of Martial Arts opened its doors to all interested in self defense and forms of fighting techniques. The Academy already hosts roughly 20 students ranging from beginner to highly trained warriors ready to jump into the world of defense techniques.
A crowd of friends, family, and supporters gathered at the organization's ribbon cutting to celebrate the new beginning of not only the owners Jack Schellenberger and Sean Ashley, but also their dream becoming a reality.
The drive, pursuit, and passion of opening the organization began at young ages for both Schellenberger and Ashley. Each have had their own path to training and individual experiences, which bought them together to create 410 Academy of Martial Arts.
"I have been training for about seven or eight years," Ashley said. I started when I was about 14 years old. I took a break here and there. I've been competing since I started though. I love this – I remember when I was 16 years old I told myself 'I am going to open a gym someday.' I knew I was going to do that."
The dream was not too far fetched from Schellenberger either. His path started around the same age.
"I started training in 2005. The first place I ever went was Stripe Zone MMA in Connecticut. I would sneak out of the Coast Guard Academy to go train there," Schellenberger said. When I moved back into the area I started training at Southside and I fell in love with the practice the first night. I have been doing this for 13 or 14 years and I can not imagine not doing it – I can not imagine it not being in my life."
410 Academy prides itself on an open area to learn, grow, and excel at whatever stage you may be starting your training. Schellenberger and Ashley want to allow room for growth not only for themselves, but also their team.
"The main thing that we are trying to do at 410 is create a very team-centered environment. Its not about me as a black belt; its not about Sean as a purple – its about us. Its about everyone helping everyone, its about everyone supporting everyone," Schellenberger said.
Ashley and Schellenberger extended their sincerest gratitude for each person who helped them in this process and came out to support. Both have the hope that this training school will be the foundation of more growth and equality in the area. They each want the training mat to feel like home to each student who stands on it.
"We want you to walk in here and we want it to be your home – your sanctuary. This is my family. These are the people I love. I love to see people succeed. I love to show them and see that light bulb go off when a student understands something. We want everyone to feel stress free and happy when they enter the mat," Ashley said.
The duo cut the ribbon surrounded by supporters to commemorate their dream come true and eagerness to begin this new journey.
410 offers different forms of training techniques, which include kickboxing, wrestling, judo, Brazilian jiu-jitsu with the gee and without.
Food for the ribbon cutting was catered by Taylor's Barbeque.
The Academy is located at 2020 Windsor Drive, Salisbury Md., 21801. For more information on the organization contact Schellenberger or Ashley on their Facebook page at 410 Academy of Martial Arts. For more information on ribbon cuttings, contact the Chamber at 410-749-0144.