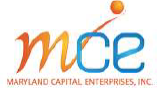 When: Friday, April 26th , 2019
Registration 8:30-9:00
Networking Breakfast & Visit Vendors: 9:00 – 9:30am Conference: 9:30am
Where: Wicomico Youth & Civic Center (Midway Room) 500 Glen Ave
Salisbury, MD
Course Fee: Early Bird Registration: $65/per person – Now Through April 5th / April 6th –April 26th $75/per person
Maryland Capital Enterprises Women's Business Center is hosting their 6th Annual
"Aspire to Succeed & Lead" Women in Business Conference. Our Keynote Speaker is Veronica Correa, Owner of the Personal Wellness Center. Next will be a Q & A session with a women's entrepreneur panel featuring powerful and inspiring local women business owners. Jolie McShane, will lead us in an interactive Linkedin session, then we will have some fun with Vision Boards led by Kathleen Case. Be an Early Bird and register by April 5th and have your name entered for a chance to win deluxe basket sponsored by Hebron Savings Bank. Also, have some Cupcake fun with a chance to win an exquisite Sapphire Ring from Kuhn's Jewelers valued at $185.00!! Breakfast, lunch and a snack are provided. Visit https://www.marylandcapital.org/womens-center/womens-conference
to register and for the full list of speakers and the agenda for the day. Be sure to inquire about sponsorship and vendor space available.
Registration: Contact Lisa Twilley, Outreach & Training Manager of MCE Women's Business Center by telephone: 410-546-1900 x108 or via email: ltwilley@marylandcapital.org.
###