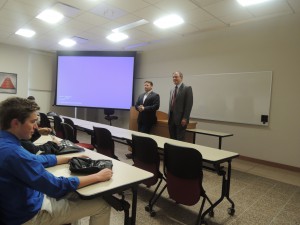 The Salisbury Area Chamber of Commerce Young Professionals Committee in partnership with the Wicomico County Board of Education and Salisbury University held the 7th Annual Career Day for all Wicomico County high school freshmen.
The event was held at Salisbury University on Wednesday, March 19 and included presentations from a wide variety of professions for students to learn about. Students selected four career presentations of their choice from nearly 40 different career tracks, allowing them to explore different career options.
Volunteer presenters were asked to share their experience and knowledge related to their career area including what is involved in their career, a typical day, educational requirements, tips and lessons learned.
After the event, students must write an essay about the career of their choice and the essays are judged by a panel of Young Professionals and the top three from each school are awarded prizes.
The Salisbury Young Professionals would like to thank all the presenters, sponsors and volunteers for making this event a success.
Thank you to our sponsors:
Chesapeake Utilities
Pohanka Automotive
Salisbury University
University of Maryland Eastern Shore
Pam Price and Associates
Wicomico County Extension Office
Becker Morgan
Davis, Bowen & Friedel
Wor-Wic Community College
Allen & Shariff
Courtyard by Marriott
Hebron Savings Bank
Wilmington University
State Farm – Karen Davis
Mayor of Delmar, Carl Anderton Jr. and Congressman Andy Harris present on politics
Jeremy Heslop of Omni Technology Professionals bring a 3-D printer to the classroom
Whiskey and Randy of Froggy 99.9 teacher students about radio production
Chrishelle Griffin of the Daily Times presents on Print Journalism
Rhonda Ford of the Wicomico County Board of Education talks about teaching
Amanda Weaver talks about professional photography to students
Heather Wilson of Matice Interactive gives students a 101 on graphic design