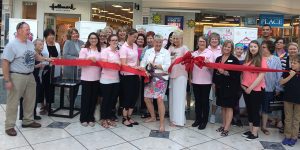 Members of the Salisbury Area Chamber of Commerce and friends of Women Supporting Women gathered at the Centre of Salisbury on May 1, 2019 to kick off the 9th Annual Bras for a Cause.
Individuals and teams decorated bras according to this year's theme, "Recyclables." Each creation offers a unique perspective about breast cancer awareness and support.
Public Viewing and Voting continues at the Centre of Salisbury (inside the mall near Burlington Coat Factory) through Sunday, May 19, 2019. Each vote involves a $1 donation, collected on site. Or donate on-line at https://www.firstgiving.com/event/womensupportingwomen/2019-Bras/participants
All votes will be tallied and winners in various categories will be announced during an Awards Ceremony on Tuesday, May 21, 2019 at 6:00 PM.
This friendly competition is a fundraiser for Women Supporting Women (WSW), the Shore's only local non-profit breast cancer support organization.This year's fundraising goal is $12,000.