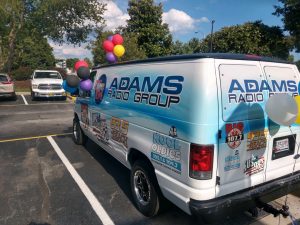 by Cathy Diekmann
Lisa Layne, the General Manager and Vice President of Adams Radio Group of Delmarva promised that their Business After Hours would be a party!  She and her team delivered!
On Thursday, August 8, 2019, guests were greeted outside by a live band, "Hope for Success," cranking out classics like "My Generation," "I Want to Hold Your Hand," and "Wipeout."  This talented group of middle school kids definitely packs a punch!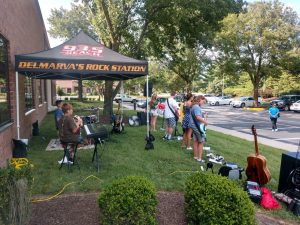 Inside, Adams Radio Group staff offered "behind the music" tours – a rare opportunity to go inside each studio – OC 104, Big 107.7, US 98.5, 93.5 The Beach, Kool Oldies 104.3 & 105.1 and Delmarva News Now.  Guests chatted with DJs and checked out the "Rack Room" which houses all the digital processors and computer networks and keeps all the above-mentioned radio stations on the air.
During the program, Layne expressed how Adams Radio Group Delmarva is committed to connecting with their listeners' communities and helping local businesses thrive. She added, "Don't let all the social media hype confuse you, radio is not dead.  93% of Americans listen to radio at least 14 hours per week! It is an effective marketing tool. Adams Radio Group is here to serve all points on Delmarva."
Layne also praised the team of professionals that make up Adams Radio Group of Delmarva.  In addition to existing sales and on-air talent, Layne has recruited new talent to take her team to the next level. Nathan James, previously from Philadelphia, is the new Brand Manager; Don Harrison moved all the way from Los Angeles to become Director of Rock Programming, and Hunter Landon is the News Director for Delmarva News Now.  "The focus on local community is why I jumped at this opportunity," James enthused. "I could work remotely from my previous location, but I choose to live here so I can connect here."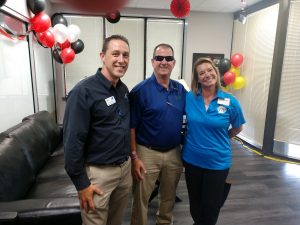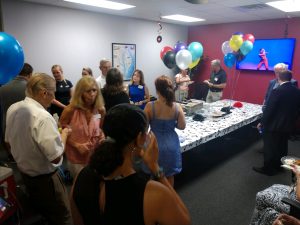 Guests enjoyed great food from Outback Steak House which included their famous bite-sized Chicken on the Barbie and Alice Springs Chicken Quesadilla as well mac and cheese and tender tastes of ahi tuna.   No one went thirsty given plentiful, ice cold sodas, wines and an assortment of beers from Big Oyster Brewery.  A friendly Big Oyster rep explained the nuance of each brew and matched a taste to the guest's preferences.
Adams Radio Group also rolled out their brand-new social media-interactive photo booth.  Guests had a ball hamming it up and instantly tagging their pics to their preferred social media sites. Look for this booth at upcoming community events.
Why not promote your business in a big way by hosting a Business After Hours in 2020?  For more information, contact Cathy Diekmann, Director of Membership Services at 410-749-0144 or cdiekmann@salisburyarea.com