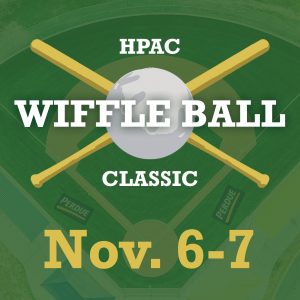 SALISBURY, MD – The HPAC Classic Wiffle Ball tournament is back this fall at the Henry S. Parker Athletic Complex's Field 7 ½.
This two-day event returns to give adults another chance to make their childhood dreams come true. Teams will compete to win custom medals, a trophy and an engraved brick to be placed on the walkway leading to Field 7 ½.
Games will be played November 6-7 at Field 7 ½. Each team is guaranteed three games. Equipment will be provided.
The tournament is limited to 12 teams, each with a 4-10 player roster. Participants must be ages 16 and older. Registration is $75 per team and is open until Oct. 29 online at www.WicomicoRecandParks.org. Contact Brian Workman at 410-548-4900, ext. 105, or email bworkman@wicomicocounty.org.
Field 7 ½ is designed to provide individuals with physical or mental disabilities the opportunity to play baseball. To learn more about Project 7 ½ or about the adaptive drop-in baseball/kickball program happening right now visit bit.ly/Fall_Drop-In.