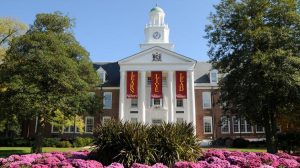 SALISBURY, MD—From festive reunions to time-honored traditions Salisbury University's 2019 Alumni Homecoming and Family Weekend is full of exciting activities.
Events begin Thursday, October 17, with the annual faculty emeriti and retired staff luncheon from noon-2 p.m. in the Patricia R. Guerrieri Academic Commons Assembly Hall. (Admission to the luncheon is by invitation only.)
Activities continue Friday, October 18 with the Residence Hall Association's Gulltimate Frisbee Tournament at 2:30 p.m. on the Holloway Hall Lawn. The annual "Taste of the Chesapeake" dinner, featuring music from Red Letter Day, follows in the Commons from 4:30-7:30 p.m. (entertainment is 5-7 p.m.). Cost for the dinner is $15, $13.50 for alumni, $8.75 for children 6 and under.
That evening, the SU Athletics Hall of Fame inducts six new members during its annual banquet at 6 p.m. in the Assembly Hall. Inductees are: Linda (Ackermann) McCarthy ('05 women's lacrosse), Jarrell Chandler ('09 football), Jason Cranford ('06 men's soccer), Dan Korpon ('05 men's lacrosse), Stacey (Krebs) Frederick ('09 volleyball), Tom Kress ('86 football). Admission is $35, $30 for past inductees. Pre-registration is required.
Saturday events begin with an open house at the Alumni House and Miller Alumni Garden from 9 a.m.-2 p.m. A luncheon for alumni graduating prior to 1974 is 11 a.m. in the Worcester Room of the Commons. The class of 1969 is honored on its 50th anniversary. Admission is $20, free for Class of '69 members, and pre-registration is required. The classes of 1934, 1939, 1944, 1949, 1954, 1959 and 1964 will be recognized, as well.
A Sea Gull Flock Party and Carnival is 11 a.m.-1 p.m. on Wayne Street, next to Sea Gull Stadium.
Sea Gull football hosts Rowan University at 1 p.m. Admission is $7; $5 for alumni, seniors and non-SU students; $3 for children 5-12; free for children under 5; SU Gull Card holders are admitted free. Advance tickets sales are at the Guerrieri Student Union Information Desk beginning Monday, October 14.
A "Sweet Treat After the Game" social, with a craft activity for younger children and photos with Sammy Sea Gull, follows at 3 p.m. at Sammy's Angle outside Henson Science Hall.
The Multicultural Student Services Office hosts a post-game alumni jazz social in the Wicomico Room in the Guerrieri Student Union from 4:30-8:30 p.m.
A hot rod and antique car show is 3-5 p.m. Saturday between Henson Science and Perdue halls. Entry is free, but space is limited. Pre-registration is recommended.
The Institute for Public Affairs and Civic Engagement (PACE) celebrates its 20th anniversary and 25 years of the ShoreCorps/AmeriCorps program on campus with a banquet 6-9 p.m. in the Worcester Room. Tickets are $50.
On Sunday, October 14, SU honors late Alumni Association Past President Rob Schultheis by partnering with organizers for the fourth annual "Run the Boards Like Rob" memorial 5K and walk on the Ocean City, MD, boardwalk. The run begins 9 a.m. at the Dough Roller restaurant, 606 S. Atlantic Ave. Registration is $30. Proceeds benefit the Robert Schultheis Memorial Scholarship at SU.
Alumni Homecoming and Family Weekend events end with an SU Gospel Choir Homecoming concert 6 p.m. Sunday in Holloway Hall.
The week also includes student-centered events such as a pep rally and step show hosted by recognized student organizations.
Other highlights include:
Friday, October 18
• 8 p.m. – Movie: Us, Devilbiss Hall, Room 123
• 9 p.m.-1 a.m. – Black Student Union and NAACP Party, Guerrieri Student Union, Wicomico Room
Saturday, October 19
• 8:30-10:30 a.m. – Family Weekend kick-off, Red Square
• 9-9:45 a.m. and 10-10:45 a.m. – Family Transition Information Sessions, Academic Commons, Academic Advising (Room 163)
• 9-11 a.m. –PACE open house
• 10 a.m. – Campus walking tour, Alumni House
• 10 a.m.-noon – Richard A. Henson Medical Simulation Center tour, 106 Pine Bluff Road
• 2 p.m. – Men's and women's soccer vs. St. Mary's College of Maryland, Sea Gull Soccer Stadium
• 2 p.m. – Volleyball vs. St. Mary's College of Maryland, Maggs Physical Activities Center
• 3:30-5:30 p.m. – Acadia New Student Experience reunion, Commons, Montgomery Room
• 4 p.m. – Homecoming Showcase with Untouchables Dance, Inc., Sammy's Angle
• 4:30-8:30 p.m. – Football alumni social, Adam's Taphouse Grille, 219 N. Fruitland Boulevard, Fruitland
• 5-7 p.m. – Communications Department social, Back Street Grill, 401 Snow Hill Road ($5)
• 5-7 p.m. – School of Social Work reunion, The Brick Room, 116 N Division St. ($5)
• 6 p.m. – Field hockey vs. Christopher Newport University, Sea Gull Stadium
• 6-8 p.m. – Classes of 1999 and 2009 reunions, Specific Gravity Pizzeria, 105 E. College Ave. ($10)
• 6-8 p.m. – Class of 1979 reunion, Brew River Restaurant, 502 W Main St. ($10)
• 6-8 p.m. – Class of 2014 reunion, Evolution Public House, 201 E Vine St. ($10)
• 6-8 p.m. – Class of 1974 reunion, Alumni House ($25)
• 6-8 p.m. – Seidel School of Education reunion, Pit & Pub, 1147 S Salisbury Blvd ($5)
• 7 p.m. – Movie: The Lion King, Devilbiss, Room 123
• 7:30-9 p.m. – Alumni and faculty concert, Holloway Hall, Great Hall
• 8 p.m. – National Pan-Hellenic Council Step Show, Holloway Hall Auditorium (tickets required)
SU Libraries hosts its annual book sale throughout Homecoming and Family Weekend. The University's Gull Gear store opens at Sea Gull Stadium at noon on Saturday and remains open until the end of the football game.
Admission to all events is free unless otherwise noted. Special invitations are required to participate in some reunion events. For more information, or to pre-register for Alumni Homecoming events, call 410-543-6042 or visit the SU Alumni website at www.salisbury.edu/alumni/alumni-association/homecoming/schedule.aspx.
For more information about Family Weekend events, call 410-543-6102 or visit the Family Weekend website at https://www.salisbury.edu/administration/parents-family/family-weekend.aspx.