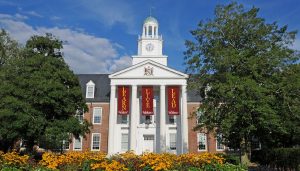 SALISBURY, MD—Maryland Secretary of Natural Resources Jeannie Haddaway-Riccio returns to her Alma Mater, Salisbury University, as the next speaker in the Charles R. and Martha N. Fulton School of Liberal Arts Alumni Lecture Series on Monday, April 22.
Her presentation is 7 p.m. in the Patricia R. Guerrieri Academic Commons Assembly Hall. She discusses how her time as an SU student leader prepared her for a career in government and politics.
A native of St. Michaels, MD, Haddaway-Riccio grew up in Talbot County and earned her B.A. in political science from SU in 1999. After graduation, she worked as an administrative assistant and public affairs specialist for the Maryland Department of the Environment before becoming a development officer for the National Audubon Society's Maryland-DC office.
In 2002, she was elected to the Talbot County Republican Central Committee, and then was appointed to represent District 37B (Caroline, Dorchester, Talbot and Wicomico counties) in the Maryland House of Delegates as the youngest woman in Maryland and in the country to serve in a state legislature in 2003.
She won her first election to the House in 2006, serving until 2015, including several years as minority whip. From 2015-2019, she served in the office of Maryland Governor Larry Hogan, first as director of intergovernmental affairs and then as deputy chief of staff. She began her current position, under Hogan's appointment, in February.
Sponsored by the Fulton School, admission is free and the public is invited. For more information call 410-543-6450 or visit the SU website at www.salisbury.edu.