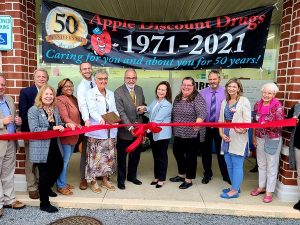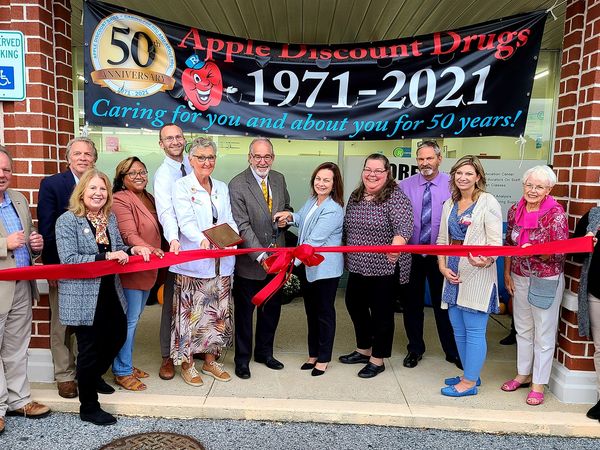 Apple Discount Drugs celebrated 50 years of success with a ribbon-cutting on October 25, 2021, amongst family, friends, retirees, local leaders and SACC members.
What started as an 825 sq. ft. store, has grown into 4 locations, including their amazing 20,000 sq. ft. store in Fruitland where the ribbon cutting took place.
Voted Best of the Eastern Shore 2021 by the Metropolitan Magazine, it is proudly family-owned and operated by Jeff, Joanne, and Zack Sherr.  The ribbon was cut by Susan Beauchamp, the daughter of Jeff's first partner.
Jeff reminisced that he was only 16 years of age when he started working and recognized that it has always been about serving the community. "This community needed a facility like this, and now we are preparing the next generation to keep it running for 50 more years!"
Among the attendees were state and local leaders including Senators Mary Beth Carozza and Addie Eckardt, Delegate Charles Otto, Speaker Pro-Tem Delegate Sheree Sample-Hughes, County Councilman John Cannon, Ann Suthowski and Michael Murray of Wicomico County Board of Education and James "Bo" McAllister, County Clerk.
After the ribbon-cutting, guests were invited inside to take a picture with the Apple Drugs mascot, Big Red Apple, tour the infusion pharmacy, the compounding lab and enjoy some "apple-licous" refreshments that included apple and ginger-infused cider, apple cupcakes and donuts, and apple trail mix.
Apple Discount Drugs is a one-stop-shop for all of your healthcare needs. In addition to filling your regular prescriptions and offering over-the-counter solutions, they provide a multitude of value-added services that can be customized to meet your family's needs.
For a list of locations and more information about the wide range of services offered at Apple Discount Drugs, visit their website at www.appledrugs.com.