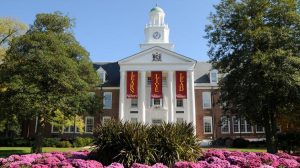 SALISBURY, MD – Salisbury University students unite to help the community during the 17th annual Big Event community cleanup day, sponsored by the Student Government Association (SGA) Saturday, November 13.
During the community service project, hundreds of SU students help campus neighbors within five miles of the University with outdoor household chores such as raking leaves and mulching.
Community members interested in participating in this year's cleanup may request student assistance at https://docs.google.com/forms/d/e/1FAIpQLSdN2xGJFsk3yOWjrTR-aoL7VqtVGkBZgz8kXfk2c3VN8K1uAQ/viewform.
Learn more about how SU students and faculty are exploring opportunities for greatness and making tomorrow theirs at www.salisbury.edu.