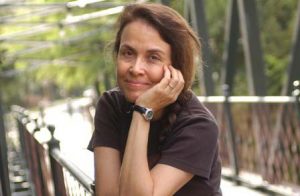 SALISBURY, MD—Poet, songwriter and novelist Naomi Shihab Nye reads from her works 7 p.m. Wednesday, April 10, in the Wicomico Room of Salisbury University's Guerrieri Student Union.
The daughter of a Palestinian refugee and American of German and Swiss descent, Nye spent most of her adolescence in Jerusalem and San Antonio. Her experiences with those vastly different cultures helped influence her work, which lends a fresh perspective to ordinary events, people and objects.
"The primary source of poetry has always been local life, random characters met on the streets [and] our own ancestry sifting down to us through small, essential, daily tasks," she said.
Sponsored by SU's Samuel W. and Marilyn C. Seidel School of Education, admission is free and the public is invited. For more information email Dr. Patricia Dean at pkdean@salisbury.edu or visit the SU website at www.salisbury.edu/childlitfestival.