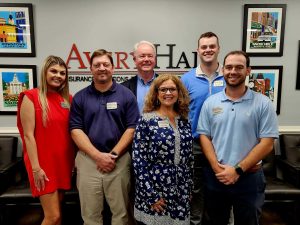 On September 14, 2023, Avery Hall Insurance hosted the Salisbury Area Chamber of Commerce's September Business After Hours at their headquarters in Salisbury, MD.   
 President Joe Gast, Vice President Mary Mengason, and Chief Operating Officer Karen Bromley welcomed guests and recognized a few Avery Hall team members. Karen told the invitees, "With our Property and Casualty Division, we have four locations with most employees operating in Salisbury. We are proud to serve the entire Mid-Atlantic region, and we are licensed in 26 states and cover small and large businesses. We also offer coverage for home, auto, umbrella, RV's, jewelry, insure your employees or business, and so much more." 
 Avery Hall Benefits Solutions is a partner of Avery Hall; they started in 1986 with just one employee and have since grown to twenty-four. "Our employer benefits solutions handle any benefits you may choose to offer, such as health, general insurance, and voluntary worksite benefits. We also have an individual market division, which has grown so much in the past year, including Medicare supplement, individual health insurance, prescription/drugs insurance, life insurance, long-term care, and much more", Mary Mengason commented. 
 Avery Hall Insurance Agency was founded in 1925 by the late Avery Hall. Since then, the agency has grown to over one hundred team members, four locations, and partners with over eighty top carriers in the nation to offer personal and commercial insurance and benefit solutions, specializing in life and health insurance products.  
 Avery Hall agents serve as mentors and advisors to individuals and local businesses, both big and small, and work towards fostering a relationship of trust and reliability with every client.
 A Salisbury Area Chamber of Commerce member since 1927, Avery Hall Insurance is active in supporting our community by participating in charity events, both as a company group and individually, such as Blood Bank of Delmarva, Community Foundation, Relay for Life, United Way of the Lower Eastern Shore, Habitat for Humanity of Wicomico, Junior Achievement of the Eastern Shore, YMCA of the Chesapeake, Operation We Care, and Relay for Life. 
 The super fun "Clue" themed Business After Hours featured life music, food and beverages by Roadie Joe's, and decadent cookies by Flamingo Roads Cookie Company. The lucky Clue Game winners received $50 Visa gift cards, and door prizes were given, including Vernon Powell gift cards and an Apple watch. There was also a 50/50 raffle benefitting the SACC Foundation endowment initiative to provide scholarships for Lower Shore students. 
 For more information on Avery Hall Insurance, visit their website at www.averyhall.com or call 410-742-5111.