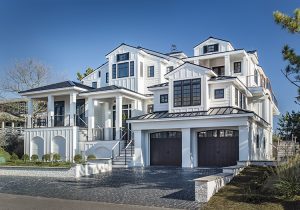 The Builders and Remodelers Association of Delaware (BRAD) awarded their annual Regal Awards naming a North Bethany Beach home the recipient of the Best Luxury Custom Home over $400,000.
No detail was overlooked in this breathtaking coastal home. The client sought a crisp modern interpretation of a low country southern aesthetic while being respectful to the natural landscape.
Through early candid conversations and thoughtful questions, the design team was able to create a one of a kind home that met the client's functional and aesthetic goals. The homeowner reflected on the entire design process: "Chris (BMG project manager) made sure he captured the soul of what we wanted in Bethany. The views, the sun, the breezes, and especially our lifestyle at the beach all went into his creation. The journey to the final design was a blast. What a blessing it is to actually live on the beach. Especially in something that will be cherished for generations of our family."
By implementing an inverted floorplan, the main living area and master suite span the entire second floor and create a welcoming and airy space that maximizes panoramic ocean views. The oceanfront property enjoys viewpoints throughout the home and a variety of functional outdoor spaces. An outdoor bridge connects the living area's oceanfront sunrise deck to a wind-protected grilling porch, giving homeowners a retreat from the house's hub of activity while providing cover for the outdoor showers below.
Miken Builders was the contractor on the project and executed the design plan with skilled craftsmanship that is evident throughout the home. In conjunction with Miken Builders, Becker Morgan Group is proud to be recognized by BRAD for this project.
Becker Morgan Group was also awarded the BRAD Best Residential Addition/Alteration award (over $50,000).
Becker Morgan Group provides comprehensive Architecture & Engineering services with offices in Delaware, Maryland, and North Carolina. For more information, visit www.beckermorgan.com.