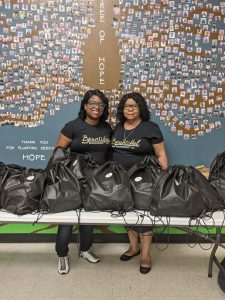 On September 3, 2021, Bountiful New Beginnings Inc. partnered with HALO Ministry in Salisbury, MD and donated 35 Bags of Love to the HALO shelter.  Each bag was filled with toiletries for men, women, and children.
Bountiful New Beginnings is a non-profit organization that provides educational programs, rental assistance, emergency food & clothing, workshops and community resources for assistance & other Community Support Service projects targeting low income, youth, adults, veterans and families. They offer activities to reconnect and restore the family bond and togetherness. Bountiful New Beginnings aims to restabilize and restore individuals and families so they can thrive and become self-sufficient.
For more information about Bountiful New Beginnings, visit their website at www.bountifulnewbeginnings.com, cakkTasha Robinson, Executive Director at 410-200-9349 or email- bountifulnewbeginnings@gmail.com
Pictured are the Founders Tasha Robinson & Betty Robinson of Bountiful New Beginnings Inc.