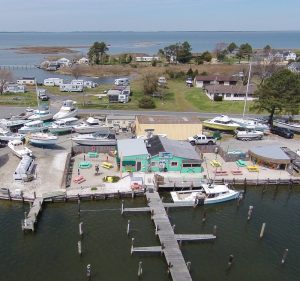 APRIL 2021, WESTOVER, MD- Andrew Ball and Allison Conick closed on the sale of 25763 Rumbley Rd, Westover, MD, formerly known as Goose creek Marina and Hideaway Grill on 4/21/21. The facility will operate under the new name of Goose Creek Pit n Pub and will be open by Memorial Day after minor renovations.
Local restaurateur Stephen Masten and partners purchased the property with intentions of branding it with their current businesses, the other 3 Pit N Pub restaurants on the Maryland Shore in Ocean City, and Salisbury, MD. They plan to incorporate their smoked & barbeque style food with the beach/bay vibe of the Hideaway Grill. They will make some minor changes to allow the restaurant to open before the 2021 boating season with extensive renovations on both marina and restaurant to continue throughout the Winter.
"We are very excited to open up the new restaurant and offer boaters another option while out on the Chesapeake Bay as well as a destination by land for lovers of fine food and amazing views. We are very thankful to the agents for their diligence during this process. Andy brokered the deal for our Salisbury Pit N Pub location, and we appreciate the incredible level of service SVN | Miller Commercial Real Estate provides," said Masten. Andy and Allie collaborated with Austin Cox of Long and Foster who represented the seller of the Hideaway Grill.
The Goose Creek Pit N Pub will continue to offer fuel and fishing supplies to boaters at the marina and great food to everyone in the area. The marina will also have boat slips available for rent for the season or shorter. If you are interested in renting a boat slip, you may reach out to Stephen at dockside.pitnpub@gmail.com or 302-242-9177.
If you would like to discuss representation with Andy Ball or Allison Conick, please call the office at 410.543.2440 or email Andy.Ball@svn.com or Allison.Conick@svn.com