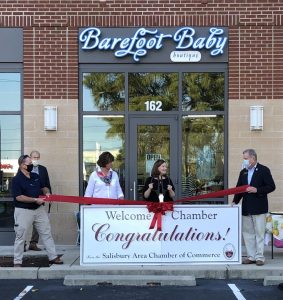 Step into the Barefoot Baby Boutique on South Salisbury Boulevard in Salisbury, and you will behold a treasure trove of items that nourish, nurture and soothe babies, toddlers, and moms. Owner Martha Ogburn, RN, MS, personally chooses every item – the softest bamboo clothing, eco-friendly toys and books, developmentally appropriate feeding options, adorable stuffed animals, and organic skincare.
As Salisbury Area Chamber of Commerce representatives gathered (socially distanced) for her store's official ribbon cutting on September 23, 2020, Ogburn explained, "I offer the best brands and cool things made in the USA that you can't find in a big box store." Make no mistake, Ogburn offers much more than that.
"My whole goal is to be there for new moms. It has always been my passion to work with moms. I can sell stuff, but as a nurse, I want to do more – I can offer free classes, address needs, and make the whole experience a celebration."
Ogburn, an RN by training who also holds a graduate degree in infant development, enjoyed a career as a Neonatal Intensive Care Clinical Specialist. Then she started a new chapter as a business owner. Her nursing experience helps her understand what expecting and new moms need. "Pregnancy and childbirth are wonderful, but they can also be overwhelming. I'm here to offer resources and support for moms-to-be and new parents."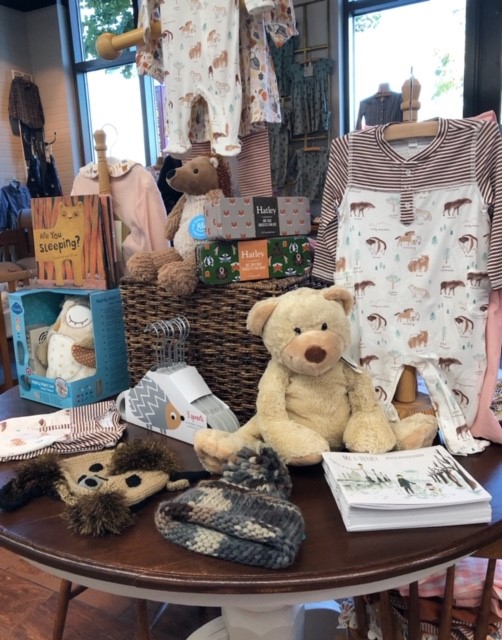 These days parents-to-be can research all things childbirth and child rearing on the internet, but that can lead to information overload and indecision. "I've had parents come in with Excel spreadsheets detailing every cloth diaper choice and still not sure what to do," Ogburn chuckles. "It doesn't have to be that hard!"
Barefoot Baby Boutique offers a free baby registry program. Parents-to-be come in, tour the store and discuss options and preferences with Ogburn. She will guide them beyond the needs of those first days home with a new baby to address needs regarding nutrition, brain development and travel.
So attuned to the emotional and mental health needs of a childbearing family, Ogburn is trained as a Coordinator for Postpartum Support International, an organization that provides information, resources, education, and advocacy to support perinatal mental health.
Starting October 15, 2020, and every third Thursday thereafter, Barefoot Baby Boutique will host "Chat with an Expert." During these events, moms can gather information and ask questions of experts in different topic area. The October chat will feature a Pediatric PA discussing sleep issues with babies. November will feature a lactation consultant regarding feeding issues. December's topic will explore how a doula might benefit the childbirth experience.
As the event wrapped up, Ogburn thanked Chamber representatives and Maryland State Senators Addie Eckhardt and Mary Beth Carozza for being there, "Running a business can be tough. It's nice to know I'm not alone in the effort."
That is your Salisbury Area Chamber of Commerce at work – supporting businesses for the betterment of all on the Eastern Shore. To learn more about investing in that mission, contact the Chamber at 410-749-0144 or email cdiekmann@salisburyarea.com
Written By Cathy Diekmann