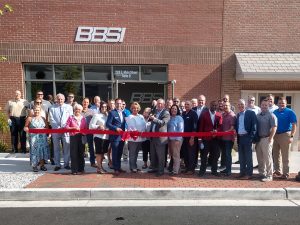 On June 25th, BBSI held a ribbon cutting and open house to mark 30 years of business in Salisbury.
BBSI helps business owners focus on the success of their company by providing HR outsourcing, payroll management, and other employer services. BBSI has over 60 branches across the United States and the Salisbury branch ranked 3rd in total growth for 2018, adding more clients per month than the majority of other branches.
BBSI has become a national leader in business management services with an annual revenue on track to exceed $6 billion dollars this year. The Salisbury branch is set to outpace BBSI's larger offices, with revenue expecting to exceed $110 million dollars this year.
More than one hundred members of the local business community came to tour BBSI's newly renovated office space and to wish Tony Nichols, CEO, and his staff continued success.