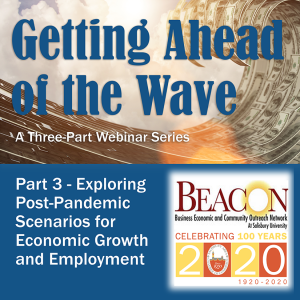 On Tuesday, April 21, 2020 BEACON at Salisbury University and the Salisbury Area Chamber of Commerce presented "Getting Ahead of the Wave" Part 3 – Exploring Post-Pandemic Scenarios for Economic Growth and Employment. Dr. Memo Diriker of Beacon at Salisbury University and colleagues Dr. Dustin Chambers and Dr. Brian Hill reviewed the current economic picture, short term, medium and long term economic trends and strategies to operate in this altered way of doing business.
The webinar can be viewed it in its entirety at https://www.youtube.com/watch?v=_tIMYIDCVRw&feature=youtu.be
Future Chamber and BEACON webinars will begin to focus on business sectors and their prospects as we move forward. Manufacturing, professional services, retail, hospitality, tourism, just to name a few. Check the Chamber Facebook page and www.salisburyarea.com for more information on dates and times.