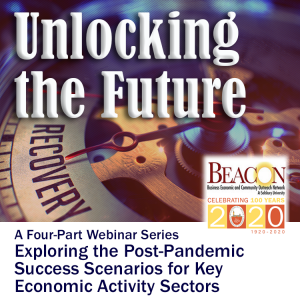 Unlocking the Future: A Four-Part Webinar Series Exploring the Post-Pandemic Success Scenarios for Key Economic Activity Sectors
On May 15, 2020, 11:00 AM – 3:00 PM, BEACON at Salisbury University and the Salisbury Area Chamber of Commerce will host the four-part webinar series "Unlocking the Future: A Four-Part Webinar Series Exploring the Post-Pandemic Success Scenarios for Key Economic Activity Sectors."
This series will feature guest panelists representing each of Delmarva's major business sectors.
Dr. Memo Diriker and experts from BEACON will moderate and provide statistical insights for each sector.
11:00 AM
RETAIL & CONSUMER SERVICES and FOOD & BEVERAGE INDUSTRY
John Knoor – Southern Boys Concepts
Denise Davis – Centre at Salisbury
12:00 PM
CONSTRUCTION & REAL ESTATE
Brad Gillis – Gillis Gilkerson
Joni Martin Williamson – President of ERA Martin (Salisbury) and President-Elect of Coastal Association of REALTORS®.
1:00 PM
UTILITIES, MANUFACTURING, & TRANSPORTATION
John Allen – Delmarva Power
Cliff Grunstra – Delmarva Central Railroad
2:00 PM
HEALTHCARE & EDUCATION
Dr. Ray Hoy – WorWic Community College
Dr. Donna Hanlin – Wicomico County Public Schools
PRMC (invited)
– one-time registration will include all four webinars
– each webinar will be 45 minutes
– you will need to JOIN each of the FOUR webinars individually
After you register, you will receive ONE confirmation email that will provide the ZOOM meeting ID and password for each webinar.