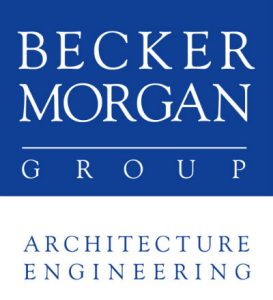 Becker Morgan Group welcomes five new staff members across its four offices. "As we continue to grow, we are excited to welcome these team members to our staff. We look forward to their help in delivering outstanding service to our clients," said Brad A. Hastings, AIA, LEED AP, Vice President of Becker Morgan Group.
Kerica Contreras, E.I.T. joins the Salisbury, MD staff as a structural designer. She earned her Bachelor of Science in Civil Engineering from Florida State University and is a member of the American Society of Civil Engineers. Since joining the firm, she has worked on a variety of projects including The Ross, a 14-story apartment building in Downtown Salisbury, MD, and the renovation of the Milford Wellness Village in Milford, DE.
Cyndi Funkhouser joins the Salisbury, MD office as an Administrative Assistant. She received her Bachelor of Arts in Humanities from the University of Maryland University College and has over 25 years of experience. Her areas of professional expertise include office management, logistics, and organization. Cyndi will provide project support for the Salisbury office in a variety of capacities.
Trevor Smith, E.I. started with the firm as an intern in 2017 and joined full-time after graduating with his Bachelor of Civil Engineering from the University of Delaware in May. He is based out of the firm's Dover, DE office as a Civil Designer. Since joining the firm full-time, he has worked on projects for both Wesley College and Delaware State University.
Corey Till is based out of the firm's Dover, DE office as an Architectural Designer. He recently graduated with his Master of Architecture from The Catholic University of America, where he served as a TA for the Undergraduate Architecture department. Corey has played an essential role in the development of the new Ocean View Professional Office in Ocean View, DE.
Alec Brown joins the Wilmington, NC office as an Architectural Designer. He attended Roger Williams University and earned his Bachelor of Science in Architecture. Since joining the firm, Alec has contributed to several projects, including the renovation of nCino's Worldwide Headquarters in Wilmington, NC.
Becker Morgan Group provides comprehensive services with offices in Delaware, Maryland, and North Carolina. For more information, visit www.beckermorgan.com.