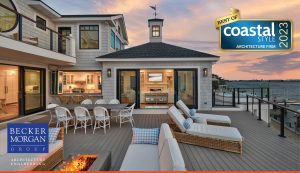 Becker Morgan Group is proud to have been recognized by the readers' choice of Coastal Style Magazine's Best of 2023 Award for the top architecture firm in Worcester, Wicomico, and Sussex counties. President Ron Morgan states, "This recognition stands as a testament to our team's unwavering commitment to excellence and innovation in the field of architecture". Becker Morgan Group has been bringing creative design solutions to clients since 1983 and is honored to be known as a responsive and client-centered firm providing optimal design solutions. The firm is organized into practice areas with dedicated staff, ensuring clients receive specialized design attention for their specific project type.
About Becker Morgan Group
Established in 1983, Becker Morgan Group is a leader in architecture, engineering, surveying, land planning, and interior design in the Mid-Atlantic and Southeast regions of the United States. Learn more at www.beckermorgan.com.