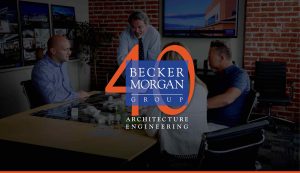 Becker Morgan Group is proud to enter its 40th year of providing professional architecture and engineering services to clients in the Mid-Atlantic and Southeast regions of the US. Since 1983, the firm has built trusted partnerships with enterprising clients to meet a wide variety of project goals. Becker Morgan Group's architects, civil and structural engineers, interior designers, surveyors, and landscape architects have collaborated with an array of stakeholders to successfully complete thousands of design ventures.
Becker Morgan Group Founder and President, W. Ronald Morgan, AIA, comments, "We would like to express our deep appreciation for our clients, community partners, and staff for their generous support over the past four decades. We look forward to the opportunity to continue serving our communities for many years to come."
Throughout the year, the firm will be sharing the story of Becker Morgan Group through various channels – LinkedIn, Facebook, Instagram, and www.beckermorgan.com.
About Becker Morgan Group
Established in 1983, Becker Morgan Group is a leader in architecture, engineering, surveying, land planning, and interior design in the Mid-Atlantic and Southeast regions of the United States. Learn more at www.beckermorgan.com.