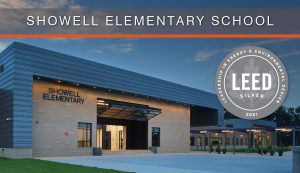 Showell Elementary School in Berlin, Maryland became Worcester County Public Schools' first LEED certified school upon being awarded LEED Silver certification from the U.S. Green Building Council in July. LEED (Leadership in Energy and Environmental Design) certification is the recognized standard for measuring a building's sustainability. Becker Morgan Group led the design team in implementing practical and measurable strategies to improve sustainability and environmental health through the new elementary school's design, construction, and operations.  
Students are encouraged to actively participate and ask questions related to sustainable practices throughout the school. Every green practice on display is accompanied by a plaque explaining its intent and functionality. Methods on display include heat island effect reduction, incorporation of native plants, water reduction, water harvesting, and reduction of single-use plastics. A cistern in the courtyard allows students to play an active role in green practices by utilized rainwater harvested from roof run-off to irrigate student gardens.
Principal architect Brad A. Hastings, AIA, LEED AP commented on the school's recent certification "We are grateful to work with forward-thinking clients, such as Worcester County Public Schools and are especially proud of the green design practices on display at Showell. This facility embodies sustainability while inspiring and teaching future generations how to do the same."
Becker Morgan Group provides Architecture & Engineering Services with offices in Delaware, Maryland, and North Carolina. Their staff of 100+ serves clients in the land development, education, healthcare, public safety, hospitality, residential, commercial, library, and government practice areas. For more information, visit www.beckermorgan.com.