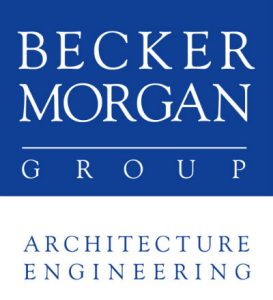 Becker Morgan Group congratulates Kevin M. Utz, AIA and Joseph M. Kott, AIA on passing their professional exam to become licensed Architects. Kevin and Joe fulfilled the educational, experience, and examination requirements set forth by the National Council of Architectural Registration Boards to become 2 of 18 licensed Architects on the Becker Morgan Group staff.
Kevin graduated from Marywood University in 2015 with a Bachelor of Architecture and has been with the firm for four years. He is an active member of the American Institute of Architects (AIA) Chesapeake Bay serving as President-Elect on the Board of Directors. Since joining Becker Morgan Group, Kevin has developed a concentration in commercial facilities, taking an active role in many of the firm's large projects, most notably the award-winning Datwyler Pharmaceutical manufacturing facility in Middletown, DE.
Joe is a graduate of Temple University, holding a Master of Architecture (2017) and a Bachelor of Science in Facilities Management (2014). He joined the firm in 2018 and has five years of professional experience with a concentration in hospitality. Outside of the office, Joe is an adjunct professor and a member of the Architectural Advisory Board at Delaware Technical Community College. Most recently, Joe has been involved with the Ocean City Convention Center Expansion and Improvements in Ocean City, MD.
Becker Morgan Group is proud of Kevin and Joe for pursuing and obtaining their professional licensure and expanding the firm's licensed staff members to better serve our clients and the community.
Becker Morgan Group provides Architecture & Engineering services with offices in Delaware, Maryland, and North Carolina. For more information, visit www.beckermorgan.com.