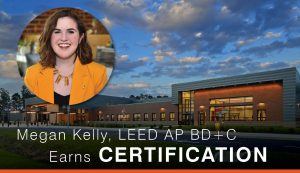 Staff Member Earns LEED AP Certification
Becker Morgan Group's architectural designer, Megan M. E. Kelly, recently earned her LEED AP Building Design + Construction certification. The LEED AP BD+C designation distinguishes those with advanced knowledge in green building design with a specialty in design and new construction of green buildings. Kelly joins 12 other Becker Morgan Group staff members with the designation. The designation requires a series of tests and hands-on project experience. Megan has gained valuable green building design practices on a number of recent projects with the firm including Showell Elementary School and Wor-Wic Community College's  Patricia and Allen Gurrieri Applied Technology Center.
Brad A. Hastings, AIA, LEED AP noted the firm's commitment to green building design "we believe good design should always align with what is beneficial for its occupants, the environment, and the community. Having over 12% of our staff LEED AP certified is a testament to our commitment to designing a better and greener tomorrow. We are proud of Megan for taking this important step in her career and we are excited to bring another expert to each of our projects."
About Becker Morgan Group
Established in 1983, Becker Morgan Group is a leader in architecture, engineering, surveying, land planning, and interior design in the Mid-Atlantic and Southeast regions of the United States. The full-service design firm delivers award-winning work in education, healthcare, public safety, hospitality, commercial, government, residential, and land development. Learn more at www.beckermorgan.com.