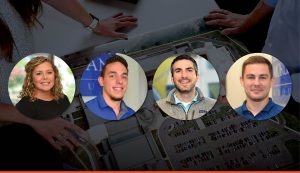 Becker Morgan Group is excited to announce additions to its leadership team, welcoming one new Senior Associate and three new Associates.
Allison L. Shockley, AIA, NCARB, LEED BD+C, has been promoted to Senior Associate. Allison started her career with Becker Morgan Group in 2012 after completing her Master of Architecture at The University of Maryland. She returned to Becker Morgan Group in 2021 after spending five years in Charlotte, NC. Allison has a passion for educational design and complex projects. She enjoys collaborating with stakeholders and the project team to understand their vision and develop the most appropriate design solutions within a project's parameters.
Tylershane Giffear, PE, Civil Engineer, is now an Associate with Becker Morgan Group. Tyler joined Becker Morgan in 2018, having recently graduated from the University of Delaware. Tyler received licensure in 2022 and has put that knowledge to work for clients throughout the region, with particular emphasis in northern Delaware. One of Tyler's more significant projects has been Winchelsea, a 132-acre subdivision near Middletown, DE.
Andrew P. Colletti, Civil Designer, has been promoted to Associate. Drew started with Becker Morgan Group in 2016. A 2014 graduate of the University of Delaware, he has broad experience in all aspects of civil site design and has specific experience working with large industrial sites throughout northern Delaware. His notable project work includes the 190-acre WuXi AppTec Pharmaceutical site in Middletown, DE, and Glasgow Commons in Newark, DE, a 149-acre logistics campus.
Ryan J. Musacchio, PE, Civil Engineer, is now an Associate at Becker Morgan Group. Upon graduation from the University of Delaware, he joined the firm full time in 2014. Ryan has developed skills and experience across a wide variety of projects and has become well-versed in land development regulations in New Castle County, DE. In addition to various retail commercial site plans, Ryan is also experienced in designing residential subdivisions.
Becker Morgan Group is grateful for these individuals and their commitment to the success of the firm.
About Becker Morgan Group
Established in 1983, Becker Morgan Group is a leader in architecture, engineering, surveying, land planning, and interior design in the Mid-Atlantic and South Atlantic regions of the United States. Learn more at www.beckermorgan.com.