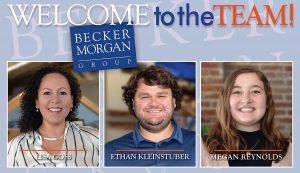 Becker Morgan Group is pleased to announce the growth of its Salisbury, Maryland office with three new team members. "We are excited to welcome these individuals to our team. We look forward to their contributions to help uphold the exceptional customer service we aim to provide our clients as we continue to grow," said Brad A. Hastings, AIA, LEED AP, Vice President of Becker Morgan Group.
Lisa Goss joins the firm's Marketing Department and brings over 16 years of architecture and engineering related experience. Lisa is a graduate of Penn State University and holds a Bachelor of Arts in Advertising and Public Relations. Well versed in business development and highly organized, Lisa is already making a positive impact on the firm. Lisa will support marketing and business development initiatives across the firm's four locations and multiple disciplines.
Ethan Kleinstuber E.I.T. joins the team as a structural designer. Ethan graduated from Virginia Polytechnic Institute and State University with a Bachelor of Science in Engineering in 2016. Before his role with Becker Morgan Group, Ethan served as a project manager and project engineer in the construction industry. His direct project experience and insights will be an asset to the project team. Since joining the firm, Ethan has played a role in the Henlopen Condominium Façade Renovation structural engineering project in Rehoboth Beach, Delaware.
Megan Reynolds is a 2020 graduate of Salisbury University, earning a Bachelor of Arts in Psychology. Since joining the firm's administrative team, Megan has taken on several key projects, including database management and software implementation. She will continue to provide project support to the Salisbury, Maryland office in a variety of capacities.
Becker Morgan Group provides comprehensive Architecture & Engineering services with offices in Delaware, Maryland, and North Carolina. For more information, visit www.beckermorgan.com.