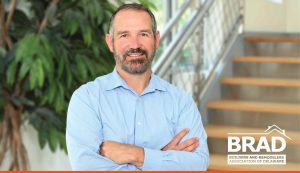 J. Michael Riemann, PE, Principal with Becker Morgan Group, was recently selected by the Builders and Remodelers Association of Delaware to serve as President of the Executive Board for 2023. Riemann remarks, "I am honored to be entrusted to lead such a great organization as BRAD, which works diligently to support the housing industry in Delaware. It is rewarding to be involved in an industry with such a positive impact on the overall economy and society."
Mr. Riemann has been a member of the BRAD Board of Directors since 2011 and served as Co-Chair of the Government Affairs Committee. Using his vast knowledge of civil site design and Delaware code, he works closely with regulators to advocate for sustainable and beneficial residential development in the First State.
In further recognition of his leadership skills, BRAD also selected Riemann as Associate of the Year for 2022 for his advocacy work on behalf of the residential construction industry. "Developing strong partnerships with approving agencies is key to sustainable growth and economic prosperity," said Riemann. The award was presented during a ceremony at the organization's annual Casino Night fundraiser in December.
About Becker Morgan Group
Established in 1983, Becker Morgan Group is a leader in architecture, engineering, surveying, land planning, and interior design in the Mid-Atlantic and Southeast regions of the United States. Learn more at www.beckermorgan.com.