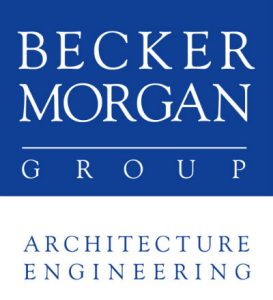 Building Design+Construction magazine again ranked Becker Morgan Group as one of the nation's top architecture engineering (AE) firms in the 2019 "Giants 300 Report". The annual report ranks leading architecture, engineering, and construction (AEC) firms nationwide, with more than 485 firms participating. Becker Morgan Group ranked #72 amongst Architecture Engineering firms and was also recognized as a leader in a series of sector-specific categories including K-12 Schools, Healthcare, Hotel, Office Space, and Higher Education.
Ronald Morgan, AIA, President of Becker Morgan Group continues to attribute the firm's success to its clients and staff, "It's an honor to be recognized as a leading firm nationwide amongst our peers. We believe this recognition is a testament to the level and quality of service we provide clients. We are grateful for their continued trust and confidence in our exceptional staff."
Becker Morgan Group emphasizes the importance of continuing education for team members, a value Gregory V. Moore, P.E., Principal says has contributed to the growth of the firm. "We remain committed to providing continuing education opportunities for our staff, including professional conferences, trainings, and seminars, allowing the firm to remain abreast of industry trends so our team is poised to provide clients with innovative and creative solutions."
Becker Morgan Group provides comprehensive Architecture & Engineering services with offices in Delaware, Maryland, and North Carolina. For more information, visit www.beckermorgan.com.