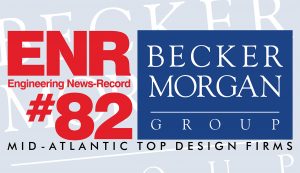 Becker Morgan Group was recently recognized by Engineering News-Record (ENR) as a 2019 Mid-Atlantic Top Design Firm for the 6th year in a row, ranking #82. ENR is the leader in providing engineering and construction news, analysis, and data throughout the industry. The annual Top Design Firm List ranks the largest U.S. design firms in each region. Founder and President W. Ronald Morgan, AIA, comments: "We are honored by ENR's recognition, and continue to be grateful for our client's trust and confidence in our exceptional staff. About 85% of our work is from repeat clients, which motivates us in the pursuit of design excellence."
One of many projects contributing to the ENR ranking is Showell Elementary School, a 154,500 sf facility in Berlin, MD, the firm's largest project to break ground in 2018. The new elementary school will provide 34 classrooms and five common areas for approximately 630 students in grades PreK – 4th. Currently, under construction, the new school is anticipated to receive LEED Silver Certification and open for the 2021 – 2022 school year.
Becker Morgan Group provides comprehensive Architecture & Engineering Services in the commercial, educational, land development, hospitality, healthcare, residential and public safety markets with offices in Delaware, Maryland, and North Carolina.  For more information, visit www.beckermorgan.com.