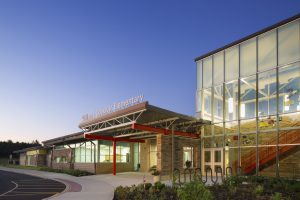 The American Institute of Architects (AIA) Chesapeake Bay Chapter recently presented Becker Morgan Group with 2016 Merit Awards for William F. Cooke, Jr. Elementary School and Lewes Public Library. The awards recognize excellence in architecture throughout the Chesapeake Bay Region, and were presented at the 2016 Design Awards Gala at the Inn at Chesapeake Bay Beach Club. Brad A. Hastings, AIA, LEED AP, commented: "We're delighted to have both of these projects selected. Being able to provide high quality designs that serve the needs of their users is always our goal. It's rewarding to have the results recognized by a jury of our peers and to be able to share this recognition with the fantastic clients who worked with us to achieve these results."
The 600 student William F. Cooke, Jr. Elementary School is Red Clay Consolidated School District's first new school in over 10 years. The design was developed through an intensely collaborative effort with the Design Committee composed of teachers, staff, and public participants over several months beginning with the Educational Specifications and culminating in the design process. The Main entry provides cross thru access, allowing for bus and vehicular separation while creating a central entry feature highlighted with the "Bus Tank" aquarium and a "Lego Wall". The "Bus Tank" was created using a bus salvaged from Hurricane Sandy flood waters.
The new Lewes Public Library is the culmination of a 6 year planning effort which included multiple site options and extensive community involvement in the design effort. The new 28,500 sf facility nearly doubles the size of the library it replaced in order to address growing population and service needs. The project was designed to be reflective of the local seaside vernacular, taking cues from old lifesaving stations as well as paying homage to the site's past use as a railway spur. The project was designed to be highly energy efficient, highlighted by a 163.2 kw roof-mounted solar array which offsets 100% of the building's projected annual electrical consumption.
Becker Morgan Group provides Architecture & Engineering services with offices in Delaware, Maryland, and North Carolina. For more information, visit www.beckermorgan.com