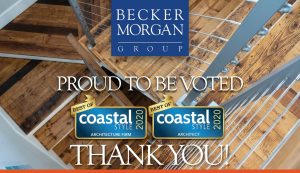 Becker Morgan Group and founding Principal, W. Ronald Morgan are honored to be recognized by the readers of Coastal Style Magazine as the Best Architectural Firm and Best Architect in Wicomico County.
Morgan commented, "It is an honor to again be recognized by our community as leaders in our profession. We are grateful for our clients and their continued trust and confidence in our exceptional staff over the last 37 years."
Becker Morgan Group provides comprehensive Architecture & Engineering services with offices in Delaware, Maryland, and North Carolina. For more information, visit www.beckermorgan.com.