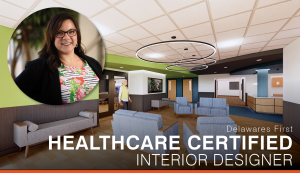 Becker Morgan Group's Ann Camper, NCIDQ, becomes the first Certified Healthcare Interior Designer (CHID) in the State of Delaware. The CHID credential is the key indicator of expertise, comprehension, and application of current codes and protocols that protect and improve the health and safety of patients, residents, family members, and healthcare providers.
Since 2009 Ann has played an active role in the firm's healthcare studio, providing interior design services to healthcare providers across the region. Ann believes healthcare facilities should be safe havens for our most vulnerable populations, and she is committed to creating spaces that serve all who use them. Camper reflects on her work, "it's important to me to create spaces where the ill are able to heal, the elderly to thrive, and healthcare workers are able to do their jobs effectively with the support of the environment around them."
Healthcare practice area leader Brenden Frederick, AIA, notes Ann's accomplishment "I applaud Ann for her commitment to the profession. As a firm, we are proud of Ann's certification and excited to bring a new level of expertise to our healthcare clients."
About Becker Morgan Group
Established in 1983, Becker Morgan Group is a leader in architecture, engineering, surveying, land planning, and interior design in the Mid-Atlantic and Southeast regions of the United States. The full-service design firm delivers award-winning work in education, healthcare, public safety, hospitality, commercial, government, residential, and land development. Learn more at www.beckermorgan.com.