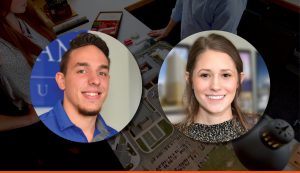 Becker Morgan Group is proud of staff members Tyler Giffear, P.E., and Molly Marino, AIA, for earning their professional engineering and architecture licenses. Tyler and Molly have met the requirements set out by the National Council of Examiners for Engineering and Surveying and the National Council of Architectural Registration Boards, including education, experience, and rigorous professional exams.
Tyler Giffear, P.E., graduated from the University of Delaware, earning his Bachelor of Civil Engineering. He joined the firm as a Civil Designer in 2018 and has been an integral member of the firm's civil engineering department in the Newark, DE office.
Molly Marino, AIA, joined the firm as an architectural designer in the firm's Wilmington, NC office in 2021. Molly has been a valuable member of the firm and has supported various project types giving her a diverse and rich skill set.
Becker Morgan Group is proud of these individuals for taking the next step in their professional careers and expanding the firm's licensed staff. These individuals allow the firm to better serve clients and the community.
About Becker Morgan Group
Established in 1983, Becker Morgan Group is a leader in architecture, engineering, surveying, land planning, and interior design in the Mid-Atlantic and Southeast regions of the United States. Learn more at http://www.beckermorgan.com.