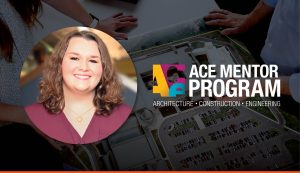 Becker Morgan Group congratulates Christine Smith, Architectural Designer, on her election as a Board Member for the Wicomico Chapter of the ACE Mentor Program. ACE is known for its commitment to providing mentorship and educational opportunities to aspiring students in the architecture, construction, and engineering fields.
Director of the ACE Mentor Wicomico Chapter, Andrea Suk, commented, "Christine's willingness to serve on the board of ACE is truly commendable, and we are excited about the fresh perspectives and enthusiasm she brings to our mission." As a Board Member, Christine will be involved in making strategic decisions, supporting fundraising efforts, and helping to shape the chapter's programs and initiatives. Her role is essential to ensuring the continued success and growth of the ACE Mentor Program in the Wicomico area.
About Becker Morgan Group
Established in 1983, Becker Morgan Group is a leader in architecture, engineering, surveying, land planning, and interior design in the Mid-Atlantic and Southeast regions of the United States. Learn more at www.beckermorgan.com.