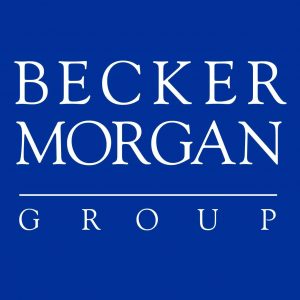 SALISBURY, MD – June 2, 2021 – The American Council of Engineering Companies – Delaware Chapter has honored Becker Morgan Group with its "2021 Engineering Excellence Award" for the design of Delaware Technical Community College's (DTCC) new 13,500 square foot Automotive Center of Excellence (ACOE) Owens Campus in Georgetown, DE. The award recognizes engineering achievements that demonstrate the highest degree of skill and ingenuity while providing a significant benefit to the public welfare and the practice of consulting engineering.
Becker Morgan Group provided full design services for the project including surveying, civil engineering, landscape architecture, architecture, structural engineering, and interior design.
"There were a number of unique challenges on this project, such as the handling of storm water management," said Greg Moore, P.E. and a principal with the firm. "We designed a system that effectively managed runoff off below the parking field using a PaveDrain system. This approach to  sustainable water resource management was one of many solutions that allowed us to make the most of the two-and-a-half-acre site."
Contributing to the win was Becker Morgan's overall approach to sustainability.  The design included EV charging stations, daylighting through glazed overhead doors, and thermal energy recovery wheels within the ventilation system to save energy (especially important when bay doors are open), and for the efficient cleaning of air of fumes while maintaining temperature.
Judging was based on a rubric that considered the new application of existing techniques, originality and innovation; the project's technical value to the engineering profession, social and economic considerations, project complexity, and the meeting and exceeding the owner/client's needs.
Developed as a partnership with State, County and local business funding, the $5.4 million Automotive Center of Excellence is expected to provide an economic boost to the region. The facility, and DTCC's new training center in Middletown, DE, were developed directly in response to a regional shortage of automotive mechanics. The facility will house the first diesel mechanic training program in the region and double the number of automotive technicians trained at DTCC each year (from 20 to 40) and train up to 15 diesel mechanics annually.
Delaware Tech received a $1.97 million grant from the U.S. Department of Commerce's Economic Development Administration (EDA) to support construction of the facility; $1.8 million from Delaware's Higher Education Fund, and $120,000 from Sussex County Council. This funding is in addition to generous support from many local businesses, organizations and individuals in the state.
About Becker Morgan Group
Established in 1983, Becker Morgan Group is a leader in architecture, engineering, surveying, land planning and interior design in the Mid-Atlantic and South East regions of the United States. The full-service design firm delivers award-winning work in residential, commercial, governmental, healthcare, education, hospitality, and recreational sectors. Learn more at www.beckermorgan.com.