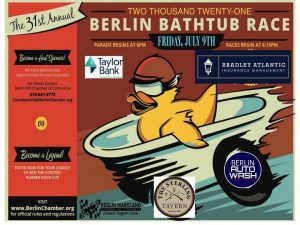 Who doesn't love taking time out in the bathtub, but have you ever raced in one? On July 9th the Berlin Chamber of Commerce will host its Annual Bathtub Races. This is a great way for businesses to advertise, while having fun at the same time. The Welcome Center, located at 14 S. Main Street, Berlin, will allow access to their parking lot all day for parking bathtubs. Teams will meet at 5:30pm for check-in, inspection and rules. The parade will begin at 6:00pm with races starting at 6:15pm.
This event will be for the entire family. Worcester Youth and Family Counseling Services will set up a Kid Zone with arts and crafts projects where children will create clothespin puppets and spin art snails. There will also be craft bags available for them to take home, plus downtown shopping and dining are always a treat.
For more information on the Bathtub Races visit the Berlin Chamber Office website at https://berlinchamber.org/events/bathtub-races/ or call 410-641-4775.